Providing information in the area of global sustainable business solutions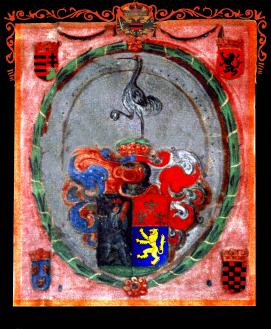 COMMITMENT SINCE 1686
Valentino Demicher Family was granted a Coat of Arms and descriptive parchment directly from the Holy Roman Emperor Leopold I of the Holy Roman Empire in 1686.
The Demicher Family practiced business collaboration with employees and alliances for centuries. Harmony and balance within the business and team resulted in loyalty and ironclad commitment for generations with an eye on the future in the present day. Demicher's historically unwavering respect for one another in business and community with visions, inspiration, and care for the community's People over the centuries ultimately saved the lives of Charles Demicher's Grandparents by the demands of the People during World War II.
Charles Demicher re-kindled the spirit of Demicher Family's Czech Republic and Slovak Republic history from his inner sense and purpose to do so, in honor and respect for his enduring Forefather's history and the need for continuity into the future. Demicher's Family Coat of Arms was registered with the Canadian Heraldic Authority / Autorite heraldique du Canada and Office of the Secretary to the Governor-General.
Valentino Demicher was granted recognition by Leopold I, Holy Roman Emperor, King of Hungary, Croatia, and Bohemia (House of Habsburg/Austria) for his management of operations and his valiant results in protecting the lives of women and children, its communities and homes during the Great Turkish War.
Charles Demicher continues to transform these core values of its family lineage into the development of innovative projects fostering self-sufficiency of People. Over the centuries the Demicher family has been involved with the development and operations of gold mines, agriculture, vinification, commodity exports, and real estate. Charles Demicher's heritage also includes an industrial history in the business sectors of porcelain enamel (vitreous) manufacturing, textile, petroleum, urban and rural real estate development and more.
In the most recent century, Demicher's continued to be involved with innovative industrial development in Switzerland, North & South America. Charles Demicher continued it's inherent and a natural quest for new business development and "concept to operations" business systems in North & South America in the petroleum, telecommunications and construction industry and then to Asia and Pac Rim. Charles Demicher's participation in early adopter technologies for small, medium and large multi-national corporations has accumulated into a strategic understanding of the multitude of elements and cross-industry perspectives of business sectors. Each early adopter technology Charles Demicher was involved with became defacto standards worldwide.
We are each an image of God and have a purpose and great skill to contribute to the World. From 1 John 4:4 – Little children, you are from God and have overcome them, for he who is in you is greater than he who is in the world. (Courtesy of Open Bible Info). We have the answers within and Together We Achieve Team Goals & Goals of Each Team Member inspiring cumulative forward progress in business and personal life. Charles Demicher's Glocalization expertise is a blend of these core values.
Notice by: Charles Demicher (TM)(c) is a publicly filed trademark, trade name & copyright in various jurisdictions including UCC, and county in any style derivatives. Use of name in the public venue without permission will be subject to infringement penalties per occurrence.
Charles Demicher (TM)(c), the name is a trademark, copyright and trade name in any and all style derivatives in public records. All rights reserved worldwide including UCC, State and County jurisdictions. Use of name in the public venue without permission will be subject to infringement penalties pf $10,000.00 USD per the first occurrence and $1,000,000.00 per each subsequent occurrence.